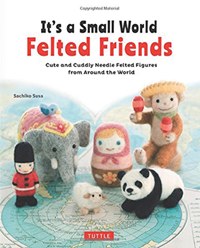 It's A Small World Felt Friend
€12.00
It's A Small World Felt Friends

There's something for everyone in this book and all the projects are easy to make. Even experienced felters can pick up tips on how to work with new colours and details. Detailed instructions for each of the projects (over 30) show you how to make the basic shapes and blend them together seamlessly. A special step-by-step section shows you how easy even the most complex piece can be, and how any small figure can be made into an accessory you can carry or wear.

About the Author
About Sachiko Susa
Sachiko Susa is a master felter and prolific designer of stuffed toys, specialising in expressive little animals both realistic and novel. She has taught and published extensively in her native Japan. Her numerous books have been translated into French, Chinese and other languages. She is the author of It's a Small World Felted Friends.
People who bought this item also bought these