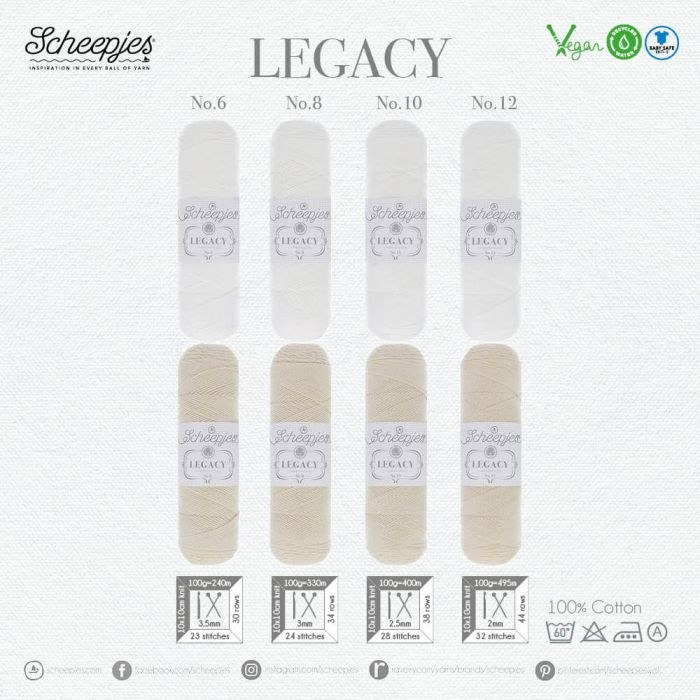 Scheepjes Legacy Nat S12 Ecru
€3.95
Scheepjes Legacy Natural Cotton Size 12 100g/495m

From Scheepjes family to yours: Scheepjes Legacy!

Create gorgeous heirloom pieces such as doilies, tablecloths and christening gowns with this wonderful natural cotton thread yarn in classic shades of white and undyed ecru. Legacy is available in two ranges; this one is premium blend 100% Cotton thread yarn with a natural matte finish. Both ranges are soft, breathable and characterised by a density and twist greater than regular cotton yarn, making them highly durable. They are also both available in thread weights no. 6, no. 8, no. 10, and no. 12, providing plenty of choice to craft your legacy.

Scheepjes Legacy joins Scheepjes' ever-expanding collection of waste water created yarns, making Legacy a perfect choice for eco-conscious crafters looking for a thread yarn that can be safely passed down from generation to generation. It is also EN71-3 certified, opening up the possibility to use Legacy to craft children's garments.

Specifications:

Legacy no. 6 (100g/240m). Recommended hook/needle size is 3.50mm.
Legacy no. 8 (100g/330m). Recommended hook/needle size is 3.00mm.
Legacy no. 10 (100g/400m). Recommended hook/needle size is 2.50mm.
Legacy no. 12 (100g/495m). Recommended hook/needle size is 2.00mm.
People who bought this item also bought these