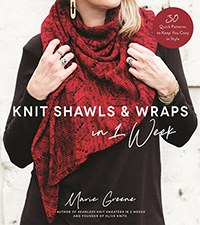 Knit Shawls & Wraps in 1 week
€19.50
Knit Shawls & Wraps in 1 week by Marie Greene

A pattern designer Marie Greene, author of Seamless Knit Sweaters in 2 Weeks, has created 30 fast new patterns for beautiful boutique-quality accessories. Every project is created to be easy-to-memorise and portable, so even knitters with busy schedules can finish in a week or less. These knits may be quick, but every design is infused with Marie's signature classic style, modern features and lasting quality. Intermediate and experienced knitters will love knitting up professional designs with satisfying textures in less than half the time of a typical shawl pattern. Scarf and wrap patterns are perfect for beginners who want to create beautiful details the quick and easy way. Readers will also discover a bonus section with cute cowls to knit in a weekend: the perfect last-minute gift. With a wide range of colours and designs, these garments are easy to throw on and complete any outfit. Marie's warm, encouraging voice, essential tips and tricks, and special time-saving techniques make this book a must-have for knitters of any level. This book contains 30 patterns and 70 photographs.

About the Author
About Marie Greene
Marie Greene is an independent knitwear designer whose patterns have been featured by The Fibre Co., Skacel Collection, Making Stories and Laine magazine. She teaches classes at yarn shops and fibre festivals worldwide. Her patterns are available online at www.oliveknits.com. Marie lives in Oregon, USA with her husband and three sons.
People who bought this item also bought these